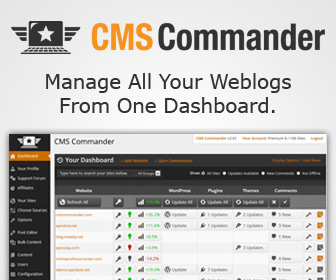 Do you have a lot of WordPress sites, either for your clients or your own? If you do,  you will certainly know how much time that can take on a daily basis to keep everything up to date and to add new content regularly.
..
How would you like to use the time spent on mundane administrative tasks on more important business tasks? CMS Commander is an online service that aims to solve this problem and make managing multiple WordPress weblogs as fast and easy as controlling a single site.
..
By placing all your wordpress  sites into one powerful dashboard, CMS Commander makes it possible to update, backup and manage them all in bulk at the same time.
..
Features of the CMS Commander plugin include:
1-click Updates of plugins, themes and WordPress on all sites
Automatic scheduled WordPress backups
Website cloning and restoring
Uptime monitoring and Analytics integration
Bulk posting and automatic content
While CMS Commander can be used for free a premium account will give you access to several special features and allows you to manage more websites.
Sign up for a free account on cmscommander.com now to start controlling all your weblogs from one dashboard and enjoy the best way to manage multiple WordPress sites!
..