he Xara 3D Heading Maker is a FREE interactive online application that allows visitors to your web site to make their own 3D text-based graphics dynamically – and then save them as well.
Putting the Heading Maker on your site is a simple process – all you have to do is paste just two lines of code into your web page. All the hard work is done by our servers, so there will be no extra workload for yours.
To put this great application on your site, you must first join the Xara Affiliate Program, but this is not a catch, in fact you might find yourself earning some extra money for your trouble!
.
//
Whether you are a full-time marketer trying to sell products or services online or someone wanting extra income, to help support your family or as extra retirement income, you will need to generate traffic to showcase your offer to potential customers.
However, the sad fact is that many training packages that tell you how to build a website for your business, where to get good graphics, good copywriting etc, very often having the last thing they tell you is…. and then drive traffic to your new site!!
That's it, just drive traffic. But how? There are hundreds and thousands of websites out there that just sit on some web server somewhere and never get any visitors! That's right, not a single person has ever found these sites so lovingly and painstakingly built (I know 'cos I had a few of them!)
Presenting the answer to that problem, the missing link:
Simple Traffic Solutions is a traffic generation product from John Thornhill.
What makes this product stand out from the thousands of traffic generation products out is that none of his methods involve Google.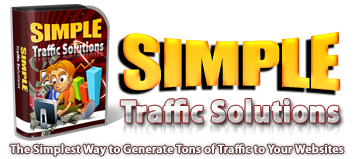 This is because a few years ago John logged into his Google AdWords account to find out he had been banned from running ads. This is a common issue with anyone in the IM niche and devastating to any marketer that it happens too. Businesses have had their sole source of income dry up in a matter of days!
It's OK for Google because they can afford to be selective with their ad program as they have huge corporations pumping billions of dollars into their bank accounts. So, no more relying on Google for John Thornhill or his students.
Another popular traffic teaching tactic is SEO. This involves trying to learn complex methods such as title tags, meta tags, heading tags, alt attributes, sitemaps, link building, algorithms, keyword research, page optimization and content creation. You could spend months getting your site to to top of Google's search results only to see them change their algorithm and your site disappears overnight. The recent Panda and Penguin updates that literally destroyed  businesses overnight are one example.
This is why John said "screw you Google" and decided to come up with traffic methods that didn't involve them at all. He studied other traditional traffic generation techniques and improved them, tweaked them and perfected them. The result is that in the last year his websites have received over 2 billion hits from 20 different traffic generation methods. Yes, you read that correctly, OVER 2 BILLION HITS, and it didn't cost him one cent.
And the good news is John shares how he generated every single click in his latest product, Simple Traffic Solutions. A step by step traffic generation program that can help you get all the traffic you need to your websites.
Well, where do I start, John has covered all he knows about traffic generation in over 50 modules. Each traffic module consists of theory training, practical training and has a checklist so you can work your way through each method step by step He has also created each module in multiple formats so you can watch the videos on your iPad, iPhone or other digital device, as well as watch online.
John gives each traffic method a rating of one to five stars,  showing you what methods work best for him and what methods don't work so well. This is something not seen often.
While some of the traffic methods appear a little basic they are covered in great detail and John's enthusiasm convinces you that traffic generation needn't be a complex matter. In fact he openly shows you how he uses each traffic generation method, shows you how his methods work, and he really has you thinking 'why bother with Google'.
There is also a ton of PDF material including a very well written eBook, a traffic generation mindmap and a collection of checklists that compliment the modules perfectly, this is worth the cost of the product alone.
All in all, and for the price, this is one of the most comprehensive traffic guides I have ever seen, and the fact John shows you how he implements each method shows you he is genuine. He has put a lot of work into this and it shows.
In fact the only downside I can think of is the price is so low you think what's the catch? Well John does hit you with an offer of coaching but this is not required to make his traffic methods work.
So for only $4.95 you can get one of the most comprehensive traffic guides I have ever seen and I can highly recommend it, no matter what level of experience you have you will learn from this product.
To top it off he also gives you a 60 day money back guarantee, so this really is one of the best deals I have seen and I encourage you to check it out here.
P.S. – did you get the free traffic package from John to get a taste of this great traffic system, if not click here now!
Most people will already know what PLR is, but for any who want to learn more, a google search or this wiki page is a good place to start  – http://en.wikipedia.org/wiki/Private_label_rights
Although you have the right to publish any private label rights material "as is" on your site, there is a possibility that search engines will consider it as "duplicate content" meaning that if the identical material can be found on another site, your article can be considered duplicate content and penalised with regard to ranking. If you have some PLR you want ti use, you can easily find out how many other sites are using that same content by selecting a sentence from an article, putting quotes around it, and entering that sentence into a search engine. Often you'll find 10, 50, or 100 other sites with the same article.
There is a lot of debate on the subject of duplicate content – only yesterday I heard one marketer proclaim that it is rubbish, using duplicate content didn't affect his results adversely at all, while another IM teacher urged readers to avoid it at all costs.
So if you are a newbie, do you use it or not?  My suggestion is to use it, but change it enough to make it quite different from the original. For me, this is a lot faster than writing a new article from scratch. Here are three of the most common recommendations:
Firstly, you should add a new first paragraph to the article. This paragraph explain your purpose in the rest of the work and summarize what is coming up next.
Secondly,  rewrite most of the first two or three paragraphs in your own words. I like to read a few sentences in a paragraph and then reword them in my own style. Then I delete the original sentences and continue with the next sentences.
This process creates at least three or four paragraphs totally in your own words that are very unlikely to be duplicated elsewhere.
Just how may paragraphs you rewrite is up to you. The more your rewrite the better off you will be. And, the more you change, the more original the article will appear to both the search engines and your site's visitors.
Thirdly, write a new closing paragraph. Make this a summary of the article. You may also include a lead-in to another page on your site with a link to that page.
It is often said that there is "nothing new under the sun", in this context meaning that what has been said and written has been said and written before, the only thing that is new in each case is the presentation, so if you want to save some time when creating your own material, whether  articles or complete ebooks, using Private Label Rights in this way will avoid any duplicate content penalty.
For more information, subscribe to the blog (RHS of the page) – one of the June freebies is "25 Ways to Reuse PLR content"
I've been hearing a lot lately about clutter from various sources and the theory seems to be that if our lives are cluttered up in some area, it stops us from moving forward or getting ahead in that area.
Well not everybody will agree with this proposal, but it bears thinking about so I wrote down of a few things that might affect the workflow in my office for a start.
Does clutter make the work flow more or less efficient?
How easy is it to find things?
Does the look of a tidy office make me feel more inclined to work or less?
Do I care about the tidiness of the office when clients or visitors call ?
But it's not just tidiness I'm talking about, it's also belongings, such as clothes we don't wear anymore because they are too big or too small, out of fashion or we just don't like them & never wear them; shoes (how many ladies do you know with more than 10 pair in their wardrobe?), towells & linen, ornament, gadgets, tools, books, music, movies – the list goes on and one.
Could you give some of these things away to someone who would appreciate them and not feel deprived? Would it make you feel lighter to have gained space back and maybe helped someone else?
Not just physical things either, what about the clutter in our minds? Like holding onto grudges or resentments of things that happened years past; dreams of being famous or wealthy but not taking any action to set us on the path – don't get me wrong, I'm not knocking big dreams because every success starts with an idea, but without any action, it just stays an idea and doesn't become reality.
Let's declutter our lives, our homes, our workplaces, our cars and our minds. Be open to change and to opportunities that come along. Make way for new things, new friends, new places perhaps, new ideas, new starts.
We're never too old to learn and it's never too late to start again!
Best wishes
Trish