Kiva is an international nonprofit, founded in 2005 and based in San Francisco, with a mission to connect people through lending to alleviate poverty. They celebrate and support people looking to create a better future for themselves, their families and their communities.

It's a loan, not a donation!
We believe lending alongside thousands of others is one of the most powerful and sustainable ways to create economic and social good. Lending on Kiva creates a partnership of mutual dignity and makes it easy to touch more lives with the same dollar. Fund a loan, get repaid, fund another.
By lending as little as $25 on Kiva, anyone can help a borrower start or grow a business, go to school, access clean energy or realize their potential. For some, it's a matter of survival, for others it's the fuel for a life-long ambition.
100% of every dollar you lend on Kiva goes to funding loans. Kiva covers costs primarily through optional donations, as well as through support from grants and sponsors.
When a Kiva loan enables someone to grow a business and create opportunity for themselves, it creates opportunities for others as well. That ripple effect can shape the future for a family or an entire community.
Here is one of Kiva's oustanding stories:
Vava Coffee, is taking the coffee industry by storm. Upon learning that coffee farmers in Kenya earn less than 35% of the international market value on their high-quality coffee because of their lack of access to better markets and limited knowledge of the quality of their product, Vava set out to shake things up. Get the full 'scoop' on how her Kiva loan has allowed her to grow her business and improve the lives of 30,000 farmers in innovative ways
Whether you are a full-time marketer trying to sell products or services online or someone wanting extra income, to help support your family or as extra retirement income, you will need to generate traffic to showcase your offer to potential customers.
However, the sad fact is that many training packages that tell you how to build a website for your business, where to get good graphics, good copywriting etc, very often having the last thing they tell you is…. and then drive traffic to your new site!!
That's it, just drive traffic. But how? There are hundreds and thousands of websites out there that just sit on some web server somewhere and never get any visitors! That's right, not a single person has ever found these sites so lovingly and painstakingly built (I know 'cos I had a few of them!)
Presenting the answer to that problem, the missing link:
Simple Traffic Solutions is a traffic generation product from John Thornhill.
What makes this product stand out from the thousands of traffic generation products out is that none of his methods involve Google.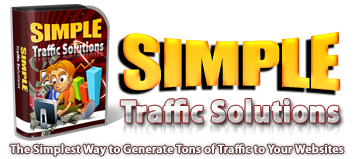 This is because a few years ago John logged into his Google AdWords account to find out he had been banned from running ads. This is a common issue with anyone in the IM niche and devastating to any marketer that it happens too. Businesses have had their sole source of income dry up in a matter of days!
It's OK for Google because they can afford to be selective with their ad program as they have huge corporations pumping billions of dollars into their bank accounts. So, no more relying on Google for John Thornhill or his students.
Another popular traffic teaching tactic is SEO. This involves trying to learn complex methods such as title tags, meta tags, heading tags, alt attributes, sitemaps, link building, algorithms, keyword research, page optimization and content creation. You could spend months getting your site to to top of Google's search results only to see them change their algorithm and your site disappears overnight. The recent Panda and Penguin updates that literally destroyed  businesses overnight are one example.
This is why John said "screw you Google" and decided to come up with traffic methods that didn't involve them at all. He studied other traditional traffic generation techniques and improved them, tweaked them and perfected them. The result is that in the last year his websites have received over 2 billion hits from 20 different traffic generation methods. Yes, you read that correctly, OVER 2 BILLION HITS, and it didn't cost him one cent.
And the good news is John shares how he generated every single click in his latest product, Simple Traffic Solutions. A step by step traffic generation program that can help you get all the traffic you need to your websites.
Well, where do I start, John has covered all he knows about traffic generation in over 50 modules. Each traffic module consists of theory training, practical training and has a checklist so you can work your way through each method step by step He has also created each module in multiple formats so you can watch the videos on your iPad, iPhone or other digital device, as well as watch online.
John gives each traffic method a rating of one to five stars,  showing you what methods work best for him and what methods don't work so well. This is something not seen often.
While some of the traffic methods appear a little basic they are covered in great detail and John's enthusiasm convinces you that traffic generation needn't be a complex matter. In fact he openly shows you how he uses each traffic generation method, shows you how his methods work, and he really has you thinking 'why bother with Google'.
There is also a ton of PDF material including a very well written eBook, a traffic generation mindmap and a collection of checklists that compliment the modules perfectly, this is worth the cost of the product alone.
All in all, and for the price, this is one of the most comprehensive traffic guides I have ever seen, and the fact John shows you how he implements each method shows you he is genuine. He has put a lot of work into this and it shows.
In fact the only downside I can think of is the price is so low you think what's the catch? Well John does hit you with an offer of coaching but this is not required to make his traffic methods work.
So for only $4.95 you can get one of the most comprehensive traffic guides I have ever seen and I can highly recommend it, no matter what level of experience you have you will learn from this product.
To top it off he also gives you a 60 day money back guarantee, so this really is one of the best deals I have seen and I encourage you to check it out here.
P.S. – did you get the free traffic package from John to get a taste of this great traffic system, if not click here now!
Flooding in Brisbane & surrounding areas (Queensland, Australia)
My city is in the midst of the worst flood since 1974. The death toll has reached 14, mostly from the torrent that originated in Toowoomba & swept through the Lockyer valley, upstream from Ipswich & Brisbane, so although we have very serious flooding in the city, we had plenty of warning so little loss of life or serious injury. However, the amount of warning is no compensation for the approx 20,000 people in 30 suburbs whose homes have been inundated with smelly brown, water.
I'm lucky to be in a higher area. My place is 100 yards off  a major road which is flooded down the end about 1km from me. The store I buy my elctronic goods from just down there had water nearly to the roof & it is on a high bit. When I saw that shown in an aerial view from the TV chopper this morning, it really threw me as I didn't think the water would reach there at all.
They're asking people not to go sightseeing, so it's a strange feeling, on the one hand watching the grim scenes on TV but on the other, from where I live and the places I have to go for work, life is seemingly normal.  However, for the thousands and thousands of people with water through their homes or businesses, it certainly is a major disaster. And it's not just here, NSW and Victoria still have the rain and the water that fell to the west of the ranges.
Especially hard hit are some of the smaller towns in the north and the west who have already had big floods since Christmas, have just cleaned up and now have to start all over again.
The cost of the cleanup for flooding on this scale is massive and many of the victims will suffer severe financial hardship. Any donations you are able to make would be received gratefully. Here is the link to the QLD Govt flood relief appeal www.qld.gov.au. Donations can be made online, by phone, in person, internet banking or mail. Our hearts go out to all who are suffering.