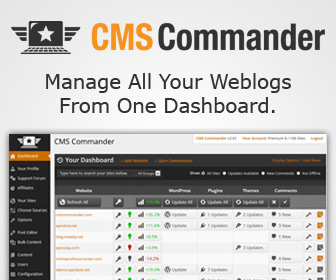 Do you have a lot of WordPress sites, either for your clients or your own? If you do,  you will certainly know how much time that can take on a daily basis to keep everything up to date and to add new content regularly.
..
How would you like to use the time spent on mundane administrative tasks on more important business tasks? CMS Commander is an online service that aims to solve this problem and make managing multiple WordPress weblogs as fast and easy as controlling a single site.
..
By placing all your wordpress  sites into one powerful dashboard, CMS Commander makes it possible to update, backup and manage them all in bulk at the same time.
..
Features of the CMS Commander plugin include:
1-click Updates of plugins, themes and WordPress on all sites
Automatic scheduled WordPress backups
Website cloning and restoring
Uptime monitoring and Analytics integration
Bulk posting and automatic content
While CMS Commander can be used for free a premium account will give you access to several special features and allows you to manage more websites.
Sign up for a free account on cmscommander.com now to start controlling all your weblogs from one dashboard and enjoy the best way to manage multiple WordPress sites!
..
Life is a series of minutes. When a person looks at life in minutes versus hours, days, weeks, and years it is easier to make progress. As a society, we believe we must have large blocks of time to get anything done, yet, what is true is that finding things that can be done in two minutes actually is a very freeing activity; very empowering.
So, what is the 2-Minute Rule? The 2-Minute Rule is a highly effective method that anyone can use anytime – anywhere.
The 2-Minute rule, in effect, is looking at things that can be done in two minutes. People have a tendency to let these two minute opportunities pass them by because they believe that two minutes are not enough time to get anything done.
Here's the challenge – look around when you have a two minutes as you are waiting to make a scheduled phone call, go pick the kids up from school, finishing cooking dinner – you get the idea – what do you see that you could do that would take only two minutes?
Tasks such as: sort the mail, unload the dishwasher, put a load of clothes in the washer, sweep the front porch, call the groomer for an appointment for your dogs, file, pay a bill or two, clean out a kitchen drawer, listen to a YouTube video on setting up a Twitter account, etc. You get the picture – right?
Getting in the habit of using this 2-Minute Rule is so empowering, energizing, and quickly and easily helps you become organized and productive. As you go through your day, ask yourself "is there anything I could do with this block of time"? If so, do it.
Sometimes the two minutes can become five minutes – that is okay. You can also set a timer if you only have a few minutes and do not want to forget to get on a scheduled call or pick up the kids from soccer practice.
The more you use this 2-Minute Rule (more or less), the more excited you will become about being more organized, having less clutter, having less distractions, etc. Our minds are always nagging us about things that need to get done, fretting about keys that are lost, worrying, and feeling guilty.
When you incorporate the 2-Minute Rule you will hear less mind chatter. People have a tendency to discount the power of this little 2-Minute Rule – believing that doing something for two minutes cannot possibly make a difference in their lives and how they feel. Word to the wise – "try it, you will like it."