Whether you are a full-time marketer trying to sell products or services online or someone wanting extra income, to help support your family or as extra retirement income, you will need to generate traffic to showcase your offer to potential customers.
However, the sad fact is that many training packages that tell you how to build a website for your business, where to get good graphics, good copywriting etc, very often having the last thing they tell you is…. and then drive traffic to your new site!!
That's it, just drive traffic. But how? There are hundreds and thousands of websites out there that just sit on some web server somewhere and never get any visitors! That's right, not a single person has ever found these sites so lovingly and painstakingly built (I know 'cos I had a few of them!)
Presenting the answer to that problem, the missing link:
Simple Traffic Solutions is a traffic generation product from John Thornhill.
What makes this product stand out from the thousands of traffic generation products out is that none of his methods involve Google.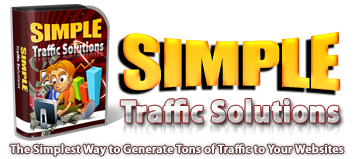 This is because a few years ago John logged into his Google AdWords account to find out he had been banned from running ads. This is a common issue with anyone in the IM niche and devastating to any marketer that it happens too. Businesses have had their sole source of income dry up in a matter of days!
It's OK for Google because they can afford to be selective with their ad program as they have huge corporations pumping billions of dollars into their bank accounts. So, no more relying on Google for John Thornhill or his students.
Another popular traffic teaching tactic is SEO. This involves trying to learn complex methods such as title tags, meta tags, heading tags, alt attributes, sitemaps, link building, algorithms, keyword research, page optimization and content creation. You could spend months getting your site to to top of Google's search results only to see them change their algorithm and your site disappears overnight. The recent Panda and Penguin updates that literally destroyed  businesses overnight are one example.
This is why John said "screw you Google" and decided to come up with traffic methods that didn't involve them at all. He studied other traditional traffic generation techniques and improved them, tweaked them and perfected them. The result is that in the last year his websites have received over 2 billion hits from 20 different traffic generation methods. Yes, you read that correctly, OVER 2 BILLION HITS, and it didn't cost him one cent.
And the good news is John shares how he generated every single click in his latest product, Simple Traffic Solutions. A step by step traffic generation program that can help you get all the traffic you need to your websites.
Well, where do I start, John has covered all he knows about traffic generation in over 50 modules. Each traffic module consists of theory training, practical training and has a checklist so you can work your way through each method step by step He has also created each module in multiple formats so you can watch the videos on your iPad, iPhone or other digital device, as well as watch online.
John gives each traffic method a rating of one to five stars,  showing you what methods work best for him and what methods don't work so well. This is something not seen often.
While some of the traffic methods appear a little basic they are covered in great detail and John's enthusiasm convinces you that traffic generation needn't be a complex matter. In fact he openly shows you how he uses each traffic generation method, shows you how his methods work, and he really has you thinking 'why bother with Google'.
There is also a ton of PDF material including a very well written eBook, a traffic generation mindmap and a collection of checklists that compliment the modules perfectly, this is worth the cost of the product alone.
All in all, and for the price, this is one of the most comprehensive traffic guides I have ever seen, and the fact John shows you how he implements each method shows you he is genuine. He has put a lot of work into this and it shows.
In fact the only downside I can think of is the price is so low you think what's the catch? Well John does hit you with an offer of coaching but this is not required to make his traffic methods work.
So for only $4.95 you can get one of the most comprehensive traffic guides I have ever seen and I can highly recommend it, no matter what level of experience you have you will learn from this product.
To top it off he also gives you a 60 day money back guarantee, so this really is one of the best deals I have seen and I encourage you to check it out here.
P.S. – did you get the free traffic package from John to get a taste of this great traffic system, if not click here now!
While browsing for sites of interest to seniors tonight I found this video on YouTube uploaded by Rob Clairman that features 8 Top Senior Sites.
I recommend that you read the written list of all the sites and summary of the content below the video as the video progresses – adds clarity to what you are watching.
Published on 7 Feb 2013

1) Online Searching And Browsing — http://www.touchlogo.com/
This website allows you to browse through endless websites categorized in subjects such as: News, Seniors, Weather, Hot Deals, Health etc. etc.
2) News — http://seniorjournal.com/
This is a great, dynamic and informative news site focuses on the senior citizen
3) Dating — http://www.seniorpeoplemeet.com/
There are many good senior dating sites. However only this one is full with REAL people and an easy and intuitive browsing experience.
4) Housing — http://www.activeadultliving.com/
Just choose your desired state and city and get all the information you need to make a good decision for your next housing
5) Videos — http://www.youtube.com/user/aahsa
This is the official channel of the American Association of Homes and Services
6) Jobs — http://www.seniorjobbank.org/
A great source for jobs and gigs
7) Health — http://www.agingnetworkservices.com/
One of the most popular sites for health and aging related issues.
8) Blogs – http://www.suddenlysenior.com/
Great blog for the golden age! Just check it out
There are a lot of things to consider when you work from home. If you need help getting through the do's and don'ts of a business you run out of your home, then this article will give you the help you need to understanding how to make it successful.
Commit yourself not to decisions but to action. Starting and growing a home business does not follow a linear path. It zigs and zags and requires constant flexibility. There is no way to make all the right decisions up front; you just have to jump in and start doing. Commit to action everyday, and have faith that you will be able to make the right decisions each time choices come up.
There is no one product or service that everyone is going to need, want or be happy with. Do not try to morph your business to make everyone in the area happy. Concentrate your energy on the consumers that are interested in the things that you have to offer to them.
Provide transcripts of any video or audio you post about your home business products or services so that search engines can index it and customers who can't see or hear can read it. Making your content accessible to the widest possible audience will open you up to getting leads from any demographic.
A great tip for your home business is to try to include a gift or surprise with every order that you send out. This will speak volumes for you and your company and give customers a reason to come back to you. The personal touch is critical with your success.
Another great tip for your home business is to pay your takes throughout the year instead of waiting until tax time. This will keep you from being hit with an unexpected amount of money during tax season which might potentially hamper your business. Check with the Tax Office for specifics on how to properly submit your taxes quarterly.
Take advantage of new technology that allows you to charge credit cards from home. Most people want to pay with a credit card, so invest in a product that will easily let you do this. Many companies have figured out how to make this very affordable for home businesses.
To help promote your home business, consider joining forums that are related to home business generally and your own niche in particular. This is a great idea because you will be able to get free advice and many tips or tricks that you might not have been exposed to otherwise. Do your research on which forums benefit you the most.
People can't be bothered clicking through a hundred pages on a website to find out what your home business is about, so feed it all to them on the front page. Include what you do, who you are, quick testimonials, a photo of yourself or your product, and how to contact you, and your leads will skyrocket.
As was stated at the beginning of this article, having a home business requires a lot of work and follow up in many different areas. The tips and suggestions here should help anyone who has or is hoping to start a home based business make it more successful.