We all want to make extra money to supplement our income these days,
but the question is, what is the best way to go? What opportunities are legitimate and realistic for ordinary people without a big budget?
.
To give you an opinion other than mine, I went searching for sites with that seemed to me to provide good advice and found this one that gives a top ten list.
.
Don't expect everything on the list to suit your circumstances, but there are some good suggestions there and maybe the hardest choice will be which one to try first.
Top 10 Ways to Earn Extra Money Online
http://www.australianbusinesstimes.com Sat, 01 Feb 2014 10:38:53 GMT

Everything from self-publishing e-books to entering online tournaments has the potential to bring in an extra wage. The following are ten top ways to earn an income online. One – Self-Publish an eBook: Self-publishing books …
Read more …
Now, some of these ideas would not do for me at all, such as online poker tournaments or forex trading, but the list includes others that do appeal, such as self-publishing or doing this as a service for clients, online freelancing (and another site not mentioned in the article that I use is People per Hour) or setting up a consultant site.
.
Whatever you decide to do, just pick one method and give it a good go. Too many people try one thing for a short time but give up before that idea has a chance to bring in any money
.
Best wishes
Trish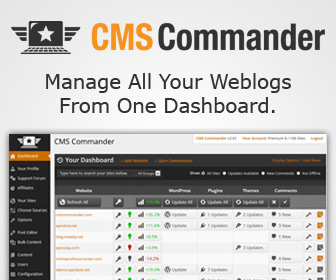 Do you have a lot of WordPress sites, either for your clients or your own? If you do,  you will certainly know how much time that can take on a daily basis to keep everything up to date and to add new content regularly.
..
How would you like to use the time spent on mundane administrative tasks on more important business tasks? CMS Commander is an online service that aims to solve this problem and make managing multiple WordPress weblogs as fast and easy as controlling a single site.
..
By placing all your wordpress  sites into one powerful dashboard, CMS Commander makes it possible to update, backup and manage them all in bulk at the same time.
..
Features of the CMS Commander plugin include:
1-click Updates of plugins, themes and WordPress on all sites
Automatic scheduled WordPress backups
Website cloning and restoring
Uptime monitoring and Analytics integration
Bulk posting and automatic content
While CMS Commander can be used for free a premium account will give you access to several special features and allows you to manage more websites.
Sign up for a free account on cmscommander.com now to start controlling all your weblogs from one dashboard and enjoy the best way to manage multiple WordPress sites!
..
I've been a Gold member of Jeremy Gislason's SureFire Wealth membership site since 2009 and I consider it to have been one of the best investments I've made to access resell rights products.
Initially I was a free member then received a free silver membership from someone I'd purchased from as a thank-you gift. When the opportunity came to buy a Gold membership at a firesale price, I grabbed it and have never regretted that decision. It was a one-off purchase (no monthly or annual payments that are so common for membership sites) so you know where you are with your cashflow.
New products are added regularly, at least every month and if you receive an email
letting you know the details of what has been added and to which level of membership. Jeremy always seems to have the latest resell right products as soon as they come out, sometimes even before they come out, so it's a good idea to check in there before you go and buy anything.
Most of the products have resell rights, i.e you can resell or give away, though there are some for your personal use only. The following is a quick summary of the different kind of rights you get:
Resale Rights (or normal resell rights) mean that after you buy the item you will be allowed to sell it to your customers. There may be limitations, such as that you can only sell the product for a specific price. When a product comes with resell rights it means that you can sell the product to just about anyone and keep 100% of the profit. The product you sell though should only include the PUO (Personal Use Only) right, in other words, you can NOT give the resell rights when you sell this type of product
Master Resale Rights – When you acquire master resell rights, you sell the product/service to your customers, and you may also grant your customers the right to sell it. You can also pass master resell rights  to your customers, if you are in possession of transferable master resell rights. This allows your customers to also sell the product with master resell rights.
Private label Rights (PLR) – perhaps the most valuable as you can change anything you like from text to graphics and then sell as your own (note that although you can claim authorship, you do not receive copyright). There may also be some restrictions on what you can do with these works, e.g., not sell on auctions sites, not add to free membership sites, not giveaway for free. All these restrictions do not apply in all cases (there is always a copy of exactly what the rights are with your purchase) but when they do apply they are to protect the value of people's purchase.
Most of the products available in Surefire Wealth include reseller kits with reseller website that you can use to market the products and this can save you a lot of time. For PLR products, you can change the graphics to get a whole new look when you market these under your own name.
Click here to check out SureFireWealth.com and the free membership now.
There are a lot of things to consider when you work from home. If you need help getting through the do's and don'ts of a business you run out of your home, then this article will give you the help you need to understanding how to make it successful.
Commit yourself not to decisions but to action. Starting and growing a home business does not follow a linear path. It zigs and zags and requires constant flexibility. There is no way to make all the right decisions up front; you just have to jump in and start doing. Commit to action everyday, and have faith that you will be able to make the right decisions each time choices come up.
There is no one product or service that everyone is going to need, want or be happy with. Do not try to morph your business to make everyone in the area happy. Concentrate your energy on the consumers that are interested in the things that you have to offer to them.
Provide transcripts of any video or audio you post about your home business products or services so that search engines can index it and customers who can't see or hear can read it. Making your content accessible to the widest possible audience will open you up to getting leads from any demographic.
A great tip for your home business is to try to include a gift or surprise with every order that you send out. This will speak volumes for you and your company and give customers a reason to come back to you. The personal touch is critical with your success.
Another great tip for your home business is to pay your takes throughout the year instead of waiting until tax time. This will keep you from being hit with an unexpected amount of money during tax season which might potentially hamper your business. Check with the Tax Office for specifics on how to properly submit your taxes quarterly.
Take advantage of new technology that allows you to charge credit cards from home. Most people want to pay with a credit card, so invest in a product that will easily let you do this. Many companies have figured out how to make this very affordable for home businesses.
To help promote your home business, consider joining forums that are related to home business generally and your own niche in particular. This is a great idea because you will be able to get free advice and many tips or tricks that you might not have been exposed to otherwise. Do your research on which forums benefit you the most.
People can't be bothered clicking through a hundred pages on a website to find out what your home business is about, so feed it all to them on the front page. Include what you do, who you are, quick testimonials, a photo of yourself or your product, and how to contact you, and your leads will skyrocket.
As was stated at the beginning of this article, having a home business requires a lot of work and follow up in many different areas. The tips and suggestions here should help anyone who has or is hoping to start a home based business make it more successful.