..
I have been very quiet on this blog for a while because I've been concentrating on getting a new business up and running with my daughter, an Amazon business where we source products from China (or elsewhere) and sell on amazon.com
p
Yes we bought a course (ASM) so we could follow instructions and at least have a fair idea of how to go about it. For our first product we found a vacuum seal specialist manufacturer in China and ordered our wine saver vacuum pump and stoppers sets from them.
p
If you are a wine drinker (who doesn't finish the whole bottle in one sitting) then you'll know that wine left in bottle that has air in it goes off and tastes sour and horrible. The solution is to use stoppers that will seal tightly around the bottle neck and a vacuum pump attached to the stoppers draws all the air out, creating a vacuum in the bottle. This is the way we have preserved food for centuries after all, so we know it works.
p
Our Hot Hut Stuff pump has been tested to keep the wine fresh longer than 14 days, in some cases is to 30 days but that is not guaranteed. To see our pump and how to use it, have a look at the YouTube video below or check out our new website at hothutstuff.com where we have the same video running as well as other features of the product such as the fate ring indicator on the top where you can set the day you sealed the bottle and know how many days it has been sealed.
p
Finally the product has been made, shipped, through US cutoms, inspected and listed in Amazon and ready for sale here

p



..
Update May 2015 – We are also selling in Australia now, both on ebay.com.au and from our this link on our Wine Pump website hothutstuff.com/sales

..
..

pp
..
To celebrate their 
5th birthday, the team at WP Robot

 are having a 

huge giveaway during July

.
Enter below to 

win

 one out of 

40 great prizes

 sponsored by their partners!
 

There are Over $6000 Worth Of Prizes
Thanks to WP Robot's great partners, you have the chance to win one of many awesome internet marketing, SEO and WordPress products in this giveaway. The total value of all prizes is $6156! See here for a complete list.
Enter The Giveaway now for 
your chance to win

! Entering is 

easy and free

.

Best of luck in the giveaway!
Trish

..
The fall in value of currencies, while costs continues to rise is causing millions of older people around the world to fear what their life will be like in their senior years. There is so much uncertainty that retirement savings carefully put aside for all those years will no longer be sufficient to provide the expected comfort in later life. Such questions as what would happen if they developed health problems, what if one partner dies and the other is left, what if they could no longer afford to live in their family home.
It is not all doom and gloom. According to USNews Money department writer, Richard Satran in an article published 5th March 2103:
Fear has motivated people to start saving more, but here are two positive ways to upgrade savings

Given a half-decade of economic uncertainty, fear may still be the biggest motivator for retirement saving. The financial crisis inspired people everywhere to save more and hold off on short-term spending. "It shook people out of their complacency and got them thinking, 'I should save more,'" says Ken Hevert, Fidelity's vice president of retirement products. "All age groups—young people, too, are showing a tendency to be more conservative."

New surveys by two leading financial-services companies show how attitudes toward saving have evolved, and highlight a couple of easy steps that can have a big impact on savings.
 These easy steps can be summarized in the following two tips:
"Tip 1: Planning for retirement boosts savings dramatically" – the planning process gives them positive goals for retirement

"Tip 2: Putting eggs in more than one basket produces far higher returns" …. "opening more channels for collecting funds has a positive effect on the amount people save"

Does planning give people a sense of taking control of their lives which helps to overcome the fear factor?
 Click here to read the full article.
Whether you are a full-time marketer trying to sell products or services online or someone wanting extra income, to help support your family or as extra retirement income, you will need to generate traffic to showcase your offer to potential customers.
However, the sad fact is that many training packages that tell you how to build a website for your business, where to get good graphics, good copywriting etc, very often having the last thing they tell you is…. and then drive traffic to your new site!!
That's it, just drive traffic. But how? There are hundreds and thousands of websites out there that just sit on some web server somewhere and never get any visitors! That's right, not a single person has ever found these sites so lovingly and painstakingly built (I know 'cos I had a few of them!)
Presenting the answer to that problem, the missing link:
Simple Traffic Solutions is a traffic generation product from John Thornhill.
What makes this product stand out from the thousands of traffic generation products out is that none of his methods involve Google.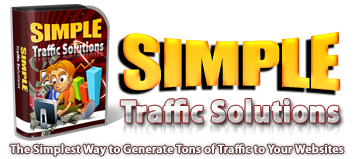 This is because a few years ago John logged into his Google AdWords account to find out he had been banned from running ads. This is a common issue with anyone in the IM niche and devastating to any marketer that it happens too. Businesses have had their sole source of income dry up in a matter of days!
It's OK for Google because they can afford to be selective with their ad program as they have huge corporations pumping billions of dollars into their bank accounts. So, no more relying on Google for John Thornhill or his students.
Another popular traffic teaching tactic is SEO. This involves trying to learn complex methods such as title tags, meta tags, heading tags, alt attributes, sitemaps, link building, algorithms, keyword research, page optimization and content creation. You could spend months getting your site to to top of Google's search results only to see them change their algorithm and your site disappears overnight. The recent Panda and Penguin updates that literally destroyed  businesses overnight are one example.
This is why John said "screw you Google" and decided to come up with traffic methods that didn't involve them at all. He studied other traditional traffic generation techniques and improved them, tweaked them and perfected them. The result is that in the last year his websites have received over 2 billion hits from 20 different traffic generation methods. Yes, you read that correctly, OVER 2 BILLION HITS, and it didn't cost him one cent.
And the good news is John shares how he generated every single click in his latest product, Simple Traffic Solutions. A step by step traffic generation program that can help you get all the traffic you need to your websites.
Well, where do I start, John has covered all he knows about traffic generation in over 50 modules. Each traffic module consists of theory training, practical training and has a checklist so you can work your way through each method step by step He has also created each module in multiple formats so you can watch the videos on your iPad, iPhone or other digital device, as well as watch online.
John gives each traffic method a rating of one to five stars,  showing you what methods work best for him and what methods don't work so well. This is something not seen often.
While some of the traffic methods appear a little basic they are covered in great detail and John's enthusiasm convinces you that traffic generation needn't be a complex matter. In fact he openly shows you how he uses each traffic generation method, shows you how his methods work, and he really has you thinking 'why bother with Google'.
There is also a ton of PDF material including a very well written eBook, a traffic generation mindmap and a collection of checklists that compliment the modules perfectly, this is worth the cost of the product alone.
All in all, and for the price, this is one of the most comprehensive traffic guides I have ever seen, and the fact John shows you how he implements each method shows you he is genuine. He has put a lot of work into this and it shows.
In fact the only downside I can think of is the price is so low you think what's the catch? Well John does hit you with an offer of coaching but this is not required to make his traffic methods work.
So for only $4.95 you can get one of the most comprehensive traffic guides I have ever seen and I can highly recommend it, no matter what level of experience you have you will learn from this product.
To top it off he also gives you a 60 day money back guarantee, so this really is one of the best deals I have seen and I encourage you to check it out here.
P.S. – did you get the free traffic package from John to get a taste of this great traffic system, if not click here now!