Kiva is an international nonprofit, founded in 2005 and based in San Francisco, with a mission to connect people through lending to alleviate poverty. They celebrate and support people looking to create a better future for themselves, their families and their communities.

It's a loan, not a donation!
We believe lending alongside thousands of others is one of the most powerful and sustainable ways to create economic and social good. Lending on Kiva creates a partnership of mutual dignity and makes it easy to touch more lives with the same dollar. Fund a loan, get repaid, fund another.
By lending as little as $25 on Kiva, anyone can help a borrower start or grow a business, go to school, access clean energy or realize their potential. For some, it's a matter of survival, for others it's the fuel for a life-long ambition.
100% of every dollar you lend on Kiva goes to funding loans. Kiva covers costs primarily through optional donations, as well as through support from grants and sponsors.
When a Kiva loan enables someone to grow a business and create opportunity for themselves, it creates opportunities for others as well. That ripple effect can shape the future for a family or an entire community.
Here is one of Kiva's oustanding stories:
Vava Coffee, is taking the coffee industry by storm. Upon learning that coffee farmers in Kenya earn less than 35% of the international market value on their high-quality coffee because of their lack of access to better markets and limited knowledge of the quality of their product, Vava set out to shake things up. Get the full 'scoop' on how her Kiva loan has allowed her to grow her business and improve the lives of 30,000 farmers in innovative ways
Whether you are a full-time marketer trying to sell products or services online or someone wanting extra income, to help support your family or as extra retirement income, you will need to generate traffic to showcase your offer to potential customers.
However, the sad fact is that many training packages that tell you how to build a website for your business, where to get good graphics, good copywriting etc, very often having the last thing they tell you is…. and then drive traffic to your new site!!
That's it, just drive traffic. But how? There are hundreds and thousands of websites out there that just sit on some web server somewhere and never get any visitors! That's right, not a single person has ever found these sites so lovingly and painstakingly built (I know 'cos I had a few of them!)
Presenting the answer to that problem, the missing link:
Simple Traffic Solutions is a traffic generation product from John Thornhill.
What makes this product stand out from the thousands of traffic generation products out is that none of his methods involve Google.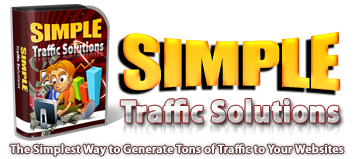 This is because a few years ago John logged into his Google AdWords account to find out he had been banned from running ads. This is a common issue with anyone in the IM niche and devastating to any marketer that it happens too. Businesses have had their sole source of income dry up in a matter of days!
It's OK for Google because they can afford to be selective with their ad program as they have huge corporations pumping billions of dollars into their bank accounts. So, no more relying on Google for John Thornhill or his students.
Another popular traffic teaching tactic is SEO. This involves trying to learn complex methods such as title tags, meta tags, heading tags, alt attributes, sitemaps, link building, algorithms, keyword research, page optimization and content creation. You could spend months getting your site to to top of Google's search results only to see them change their algorithm and your site disappears overnight. The recent Panda and Penguin updates that literally destroyed  businesses overnight are one example.
This is why John said "screw you Google" and decided to come up with traffic methods that didn't involve them at all. He studied other traditional traffic generation techniques and improved them, tweaked them and perfected them. The result is that in the last year his websites have received over 2 billion hits from 20 different traffic generation methods. Yes, you read that correctly, OVER 2 BILLION HITS, and it didn't cost him one cent.
And the good news is John shares how he generated every single click in his latest product, Simple Traffic Solutions. A step by step traffic generation program that can help you get all the traffic you need to your websites.
Well, where do I start, John has covered all he knows about traffic generation in over 50 modules. Each traffic module consists of theory training, practical training and has a checklist so you can work your way through each method step by step He has also created each module in multiple formats so you can watch the videos on your iPad, iPhone or other digital device, as well as watch online.
John gives each traffic method a rating of one to five stars,  showing you what methods work best for him and what methods don't work so well. This is something not seen often.
While some of the traffic methods appear a little basic they are covered in great detail and John's enthusiasm convinces you that traffic generation needn't be a complex matter. In fact he openly shows you how he uses each traffic generation method, shows you how his methods work, and he really has you thinking 'why bother with Google'.
There is also a ton of PDF material including a very well written eBook, a traffic generation mindmap and a collection of checklists that compliment the modules perfectly, this is worth the cost of the product alone.
All in all, and for the price, this is one of the most comprehensive traffic guides I have ever seen, and the fact John shows you how he implements each method shows you he is genuine. He has put a lot of work into this and it shows.
In fact the only downside I can think of is the price is so low you think what's the catch? Well John does hit you with an offer of coaching but this is not required to make his traffic methods work.
So for only $4.95 you can get one of the most comprehensive traffic guides I have ever seen and I can highly recommend it, no matter what level of experience you have you will learn from this product.
To top it off he also gives you a 60 day money back guarantee, so this really is one of the best deals I have seen and I encourage you to check it out here.
P.S. – did you get the free traffic package from John to get a taste of this great traffic system, if not click here now!

Many people, when creating their website, don't think about the importance a logo can play.
Your site's logo is sort of like your business card. When people see it, the design makes an immediate impression in their mind, for good or for bad. Want to make sure it makes a good impression? Follow these easy steps!

1. Begin with a simple black and white design.
You don't have to finish with a black and white design, but you want to start with one. Think of this as the pencil sketch for what will become a great painting. Even the great artists start out with a rough sketch of what the finished product will look like. With a black and white design, it doesn't matter if you have the latest graphic editing software, or a more outdated version. Using black and white as a starting point, you can create a clean design from which to start.

2. Fonts are great, but don't go overboard.
There are a lot of great fonts out there and you might be tempted to put a few of your favorites in your logo. Don't! You never want to use more than two fonts in your logo. Any more than this and you risk having your logo go from neat and professional to amateurish. Professional graphic designers will tell you that too many fonts can be off-putting to a site visitor. Coco Chanel once advised fashion-conscious women to take off the last accessory they put on, in order to avoid looking like they were drowning underneath their accessories. Don't let your logo drown in unnecessary fonts!

3. Make sure your logo looks good in any scale.
One common mistake people make when designing logos is by designing logos meant to be viewed in only one scale. Remember, you may want to reuse your logo later on in either a higher resolution or lower resolution. Design your original logo in a high resolution and test it out in different scales. How does it look when you scale it down?

4. Avoid overly elaborate fonts.
Avoid overly elaborate fonts
Avoid overly elaborate fonts
Sure, that fancy font with all the bells and whistles looks interesting, but is it readable? There is a reason that the simple fonts are the most commonly used. If your reader cannot read your logo, you might as well not have one. Make sure the font you use can be read by more people than just yourself.

5.Try your logo on more than one background.
You never know where your logo might end up. For right now, it might look great against the white backdrop of your site, but what about when it is on an affiliate page? An advertisement? Does it look great against both dark and light backgrounds? Vibrant backgrounds? Dull ones?
6. Look at your logo from different angles.
People don't think about the impression their logo might make when turned upside-down or sideways. A logo that looks fantastic when turned the correct direction might look different when turned upside down. Your logo might only be on your website right now, but what if it is placed on a product or book later? Avoid unintentional disaster by making sure your logo looks great when viewed from all directions.
7. Get a second opinion.
Second opinions aren't just for medicine. You love your logo. Great! What about other people? Don't be afraid to ask for criticism. Make sure to ask for second opinions from people who are going to give you their honest opinion. Everyone wants to hear from other people how great their work is, but is it more important to have a bunch of people who tell you how great your work is because they think it is what you want to hear, or because your work really is great?

8. Tie it all together.
Your logo isn't complete until all the individual parts of the logo work together.
Do the fonts and the graphics work together? Does everything flow well together? The components of a well-designed logo should work with each other and not against each other.
Remember to take your time with your logo design. Great logos look like they took time and thought to put together, so make sure you put time and thought into your design! And don't be afraid to deviate from your original design. Your original thoughts and designs may not be the best final choice, so don't be unwilling to adapt. By following these easy tips, you are sure to create a design you will be eager to show off!
Best wishes
Trish