Canvakala is a new plugin that is getting rave reviews
The recently released plugin (special launch price $17) aims to give word-press users a replacement for the inadequate image handling that is built-in. Some people claimed it had the power of photoshop while being a lot easier to use, so I thought that I would try out.
..
Here's the link if you want to check it out (this is a direct link not one that would earn me a commission)
Claims:
..
Find Royalty-free Images 
Easily Find images from sites like pixabay, flickr, openclipart & instagram, ALL from your WP dashboard!
YES, it did that but you have to have active accounts at Flickr & Pixabay first, so be prepared to upload some photos there first if you don't have active accounts there already (at Pixabay at least)
..
Manage & Edit Images EASILY 
Once you've picked an image you can resize/crop to any size you want or to built-in size suggestion like for FB ads, cover etc.
–
Yes, this feature is excellent
 
Choose from 20 Automatic Special Effects also apply Instagram like filters to your image

Make your image UNIQUES and STANDOUT with some WOW effects!  – 
Lots of effects but of limited use in my opinion
..
Insert Your Image Easily To Your Blog Post or Download it for other purposes!
After you finish designing or editing your image you can easily use it for whatever you want!
Yes, that can be done easily too.
..
Adds a Full Photoshop like Editor to your site –



Well, it does add some features found in photoshop but the plugin is not designed to replace photoshop any more that a Mini would replace a Rolls, but they both will get you from one place to another in their own way.
..
Some of the features advertised are only available in the Pro version (OTO1 – $27 at time of launch)> If you have a lot of WordPress sites, want to have more choice that people who only bought the regular edition or if price is not an issue for you, then the pro edition gives you a heap more choices.
..
I've only tried it on two sites so far – but does the editor does not open to search for images on the other site. I'll be sending a support ticket to see if there are any known incompatibilities with other plugins or themes.
Would I recommend it? Yes if your time is more valuable than the cost. It certainly made the finding & posting of the image above very easy, but I have many sources for graphics asn other good programs to edit them, so did not buy the upgrade (was very tempted though – I am one of those impulse buyers sellers love!)
Best wishes
Trish
..
I have been very quiet on this blog for a while because I've been concentrating on getting a new business up and running with my daughter, an Amazon business where we source products from China (or elsewhere) and sell on amazon.com
p
Yes we bought a course (ASM) so we could follow instructions and at least have a fair idea of how to go about it. For our first product we found a vacuum seal specialist manufacturer in China and ordered our wine saver vacuum pump and stoppers sets from them.
p
If you are a wine drinker (who doesn't finish the whole bottle in one sitting) then you'll know that wine left in bottle that has air in it goes off and tastes sour and horrible. The solution is to use stoppers that will seal tightly around the bottle neck and a vacuum pump attached to the stoppers draws all the air out, creating a vacuum in the bottle. This is the way we have preserved food for centuries after all, so we know it works.
p
Our Hot Hut Stuff pump has been tested to keep the wine fresh longer than 14 days, in some cases is to 30 days but that is not guaranteed. To see our pump and how to use it, have a look at the YouTube video below or check out our new website at hothutstuff.com where we have the same video running as well as other features of the product such as the fate ring indicator on the top where you can set the day you sealed the bottle and know how many days it has been sealed.
p
Finally the product has been made, shipped, through US cutoms, inspected and listed in Amazon and ready for sale here

p



..
Update May 2015 – We are also selling in Australia now, both on ebay.com.au and from our this link on our Wine Pump website hothutstuff.com/sales

..
..

pp
..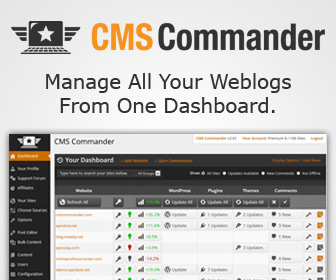 Do you have a lot of WordPress sites, either for your clients or your own? If you do,  you will certainly know how much time that can take on a daily basis to keep everything up to date and to add new content regularly.
..
How would you like to use the time spent on mundane administrative tasks on more important business tasks? CMS Commander is an online service that aims to solve this problem and make managing multiple WordPress weblogs as fast and easy as controlling a single site.
..
By placing all your wordpress  sites into one powerful dashboard, CMS Commander makes it possible to update, backup and manage them all in bulk at the same time.
..
Features of the CMS Commander plugin include:
1-click Updates of plugins, themes and WordPress on all sites
Automatic scheduled WordPress backups
Website cloning and restoring
Uptime monitoring and Analytics integration
Bulk posting and automatic content
While CMS Commander can be used for free a premium account will give you access to several special features and allows you to manage more websites.
Sign up for a free account on cmscommander.com now to start controlling all your weblogs from one dashboard and enjoy the best way to manage multiple WordPress sites!
..
It's not just syncing your files and folders anymore. It's trying to sync literally everything on your phone, tablet, and computer. Game saves, settings, contacts, notes—all of it, and on any phone or tablet you have.
Kyle goes on to say that Dropbox is moving forward with what is calls Datastores. a new API that will power third party apps, enabling all developers to sync their apps over the cloud.
At the moment, we have apps that are only relevant for certain systems e.g. separate apps are needed for iphone/ipad and android with no way to interact; is that about to change?   Click to see the full article.
Until this happens, what cloud storage / backup services can we use for free. How do Dropbox,  iCloud, SkyDrive, Google Drive compare at the moment?
From dropbox.com, this has been a popular choice for quite some time (dropbox is often the first thing that comes to mind for those who have used cloud storage for some time).
SkyDrive
From Microsoft, Skydrive has also been around for some time too and although it comes with more free storage than Dropbox, it initially lacked some of the features (and the 25GB of free storage initially offered has been reduced to 7GB, still a generous amount for free!).
iCloud
More geared to apple users, iCloud is an almost automatic choice as it allows users to seamlessly backup all their iOS devices to the cloud and sync photos & documents between all their apple devices. 4GB free but only for photos, you need is a paid version for documents.
Google Drive
From Google (of course) and for everybody (you do need a google account); also very easy to use, letting you store and access your files anywhere, on the web, your HDD or on the go and each is updated when online.
Below is a summary of features for the Big Four
[table id=1 /]
I use Dropbox and GoogleDrive mostly as I've had accounts for years, but  there are many other choices as well as the offerings from the biggest companies. I recently tried & reviewed Copy.com (see here trishfindlay.com/free-data-storage-copy/) and so far have found it to be very easy to use and reliable.
Here are a few of these others – a browser search will give you more information.
Justcloud
Zipcloud
myPCBackup
Sugarsync
Copy
Backup Genie
SOS Online Backup
IBackup
Carbonite
Mozy
LiveDrive