Published
August 27, 2016
|
By
admin
..
I have just been pointed to an excellent free  resource for those of you who use spreadsheets or even those who don't yet but would like to learn how to use them – a brand new website about Microsoft Excel!..
Now I've been using spreadsheets for many years, I love them, I even use excel as my calculator because my arthritic fingers often hit the wrong button on a calculator but I don't realize so get an incorrect total, but with a spreadsheet, I can see the figures I enter and I just have a formula at the bottom that works out the total for me..
.
In my work with bookkeeping clients, I've created a spreadsheet to work out the split for  invoices with a mixture of tax and no tax items that have to be split into several cost centers – this was a real pain to do each time, but now it's a breeze, all I need to do is enter invoice total, tax amount and % breakups and presto, the figures to enter are sitting there for me!
.
Spreadsheeto is all about depth. That means each topic get thoroughly explained, in an easy-to-understand manner. All of their content is free and up to date. So even though you're not an "Excel-nerd" (like they are), you can learn to do some pretty amazing things.
.
Even if this is not for you, if you know someone who has to use a spreadsheet, maybe for a club or organisation they belong to, pass on this link to this excellent  Excel training resource..
Here's the link to check it out yourself?
http:// spreadsheeto.com/free-excel-training/
.
Posted in

How to.., MS Office, Spreadsheets
|
Tagged

......, ........, arthritic fingers, bookkeeping clients, button, centers, check, clients, content, cost, cost centers, date, easy-to-understand manner, excellent free resource, excellent  Excel training, formula, free, how to, incorrect total, invoice total, items, link, means, Microsoft Excel, mixture, need, organisation, pretty amazing things, real pain, resource. http:// spreadsheeto.com/free-excel-training/, spreadsheets, su_box title=, tax items, things, time, training, website, work, wrong button
Published
April 21, 2014
|
By
admin
Although content has always been considered the be the "king" when it comes to writing compelling web material, with the rapidly increasing numbers of websites "out there", never has it been so vitally important to make your content better that of your competition, so it pays to take the time to create high quality articles that visitors truly want to read.

Forget about taking shortcuts; no matter what niche or business you are in, the quality of your articles, posts & sales material will always be the key to a successful online venture.
To write content that really conveys the message you want to get across, take note of these 5 key factors:
Make It Easy To Read

Keep that in mind many people skim-read webpages. Your target readers are probably subscribed to several news feeds or  blogs, so if you want to hold their interest, you need to make your content easy to read.
.
Remember readers like white space, so use short paragraphs and bullet points or numbered lists with subheadings. Use web recommended fonts because research has shown them to be the most easily read by the majority of readers. A particular font might appeal to you, but that doesn't mean it will have universal appeal or be easily read by others, especially those with poorer eyesight.
.
Add graphics to your articles where that is appropriate as this makes the structure of your post more visually appealing and helps to keep your article focused on the point you want to get across.
Good Quality Material

While it is true that you can get articles written very cheaply when you don't want (or don't have time) to write them yourself and also true that some so-called "gurus" claim to still make money using poorly written articles, these guru's may well have a very large list of people who will buy whatever they recommend, regardless of quality.
.
Therefore, it isn't a good idea for you to do what they do because you want to build a good reputation for yourself, build your business so that your readers and customers see you as a quality provider and will be more interested in your next offer. Remember, it is easier to sell something to an existing customer than it is to find a new one.
Be Natural
Don't try to fill your article with keywords; make your sentences flow in a clear, informative and entertaining manner.  Search engines have evolved to the point where you will be penalised for overuse of keywords, rather than rewarded in the rankings.
.
The best advice is to stop worrying about keywords. If you are answering the questions your searchers are asking then the keywords will come into the content naturally.
.
Of course you can add some in on purpose after the article is finished, but in a way that does not upset the flow. Keywords should be secondary to creating an article that's interesting and informative.
A comfortable Length
There may be accepted "rules" as to how long your online articles should be, but every article and every subject is different, so use your common sense about it.
.
Imagine that you are the person searching for your content; ask yourself if you could find the answer to what you want to know in just 100 – 150 words? If the answer to this is "yes", then 100 -150 words is long enough! The key is to use as many words as are required to address the subject without getting off track or including unnecessary detail and very often, that will require a lot more than 100 words.

Current
Most online content becomes out of date and needs updating from time to time. Yes, some things don't change much over time, like how to grow vegetables or recipes, so articles about these subjects are considered "evergreen" because they are still relevant long after being written.
 However, just because they are still relevant doesn't mean you can re-hash them without penalty from the search engines.
.
Remember that Google, Bing and the like are businesses too, trying to please their customers (searchers) so they will reward those who upload content that is fresh, up to date and original. It pays to take advantage of this fact by keeping on top of your industry and keeping your readers informed. 
.
It is a mistake to take shortcuts when it comes to high quality content. In the long term, it is well worth the time and effort it takes to write material that will convince your reader to take action and join your list or buy whatever you are offering.
Posted in

Article Marketing, Info & Learning
|
Tagged

......, ........, action, advantage, advice, answer, article, articles, best advice, bing, blogs, bullet points, business, businesses, change, comfortable Length, common sense, compelling web material, competition, content, course, customer, customers, date, effort, entertaining manner.  Search, f1f1ec, fact, good idea, Good Quality Material, good reputation, Google, graphics, guru, gurus, high quality articles, high quality content, how to, industry, key, key factors, keywords, king, large list, list, lists, long term, majority, make money, material, matter, message, mind, mistake, money, Natural, need, needs, news, news feeds, niche, offer, online, online articles, online content, overuse, paragraphs, particular font, penalty, people, people skim-read webpages, point, points, poorer eyesight, poorly written articles, post, posts, provider, purpose, quality provider, questions, rapidly increasing numbers, readers, readers informed., recipes, research, rules, sales material, search, search engines, searchers, sentences, short paragraphs, shortcuts, size, space, structure, subheadings, subject, subjects, successful online venture., su_note note_color=, su_spacer size=, target readers, things, time, track, universal appeal, visitors, way, Web, websites, white space, words
Published
March 25, 2014
|
By
admin
There is always plenty of advice "out there" about how to generate traffic to your website so that you can instantly maximize your income and automate your online business.
The problem is choosing one strategy from the avalanche of methods that pour into our inbox every day.  So how do you know which ones will ultimately generate the highest volume and the best quality traffic?
Throughout the years, there have been two main 'blocks' of traffic:
Free Traffic – this was traditionally slow and sometimes tedious, but would ultimately get results
Paid Traffic – not everyone can pay for traffic and even when the cost involved did bring traffic it required constant monitoring to know which ads were bringing in the highest ROI.
Things have changed in recent years and there are ways to siphon high-quality traffic to any website or landing page you choose without spending a fortune on advertising or waiting a long time to see results.
By using a few FREE traffic resources you could ultimately flood your website with more traffic than ever before, instantly increasing your profits while solidifying your place as an authority in your market.
.
Forum Traffic
Search for forums in your niche and find conversations where you can add a helpful reply. In your forum signature, have a link to your website or article to get a backlink to your site from the forum. The better the ranking of the forum, the more valuable your backlink, but remember it must be relevant to your own content as this is one of Google's ranking factors.
On the page where you are linking to, have a quality free offer in the niche with an optin-form to grow your marketing list.
.
.
Social Media Traffic
Social marketing is all about directly connecting with your customer base, engaging them in conversation and building relationships with your target audience.  One of the easiest ways of building a customer-based marketing campaign is to take advantage of the popularity of social networks like Google Plus, Facebook and Twitter.
You can set up marketing campaigns at no cost just by creating a Facebook page for your business and connecting with potential customers. You can enhance your pages by offering discounts, special coupons and savings available only to those who join your Facebook group, like your page or connect with you in another way.
.
.
.

Google Plus Local Business Pages are beginning to appear on the first page, top position, of local, organic Google Searches (Yes, paid ads still get preference – but how many people do you know who mentally don't "see" paid ads, skipping right over them to the first organic result?
To see more about Google Plus, I have a lengthy article called Google Plus for Business at the link below on one of my sites: http://localbizwebsites.com.au/google-plus/
.
.
 More information about getting traffic to your website can be found in today's FREE Report by completing the form below or to one on the right in the sidebar.
The report will be emailed to you after you click on the activation link in the confirmation email.
Posted in

Internet Marketing, Local Marketing, Mobile Marketing, Traffic
|
Tagged

......, ........, activation link, ads, advantage, advertising, advice, article, base, best quality traffic, building relationships, business, Click, confirmation email, constant monitoring, content, cost, customer, customer base, customer-based marketing campaign, customers, easiest ways, email, Facebook group, Facebook page, flood, form, forum signature, Forum Traffic Search, forums, free, free report, free traffic, FREE traffic resources, Google, Google Plus, helpful reply, high-quality traffic, highest ROI, highest volume, how to, how to get traffic to your website, income, information, landing page, lengthy article, link, list, Local Business Pages, long time, main 'blocks, market, marketing campaigns, marketing list, media, methods, niche, offer, ones, online, online business, organic Google Searches, organic result, page, pages, people, place, plenty, position, potential customers, quality free offer, ranking factors, search, site, social media, social networks, special coupons, spending, target audience, things, time, traffic, traffic generation, Traffic Social marketing, valuable your backlink, way, ways, website
Published
February 18, 2014
|
By
admin
I am a great fan of Udemy and have enrolled in a number of courses, some completed and others not yet.
I am in good company because there are 2 million in 190+ countries are taking online courses on Udemy. Course they are taking include:
Programming,  Yoga,  Design,  Photography,  Spanish,  Marketing,  Guitar,  Finance,  Cake Decorating and many many more
More than 12,000 courses (in 10 different languages!) have been published in our marketplace. Each course is designed & taught by an expert instructor and hundreds of new courses are published every month.
So whether you want to get promoted, break into a new industry, start a company, or just further a passion, Udemy's here to help you achieve your goals.
It's not just about taking other people's courses either – anyone can be an instructor, teach a course and charge money for it!
It is a huge opportunity, because Udemy hosts all your course content for you, videos, power point presentations, audio, mindmaps, text etc, whatever teaching materials you prefer, with the proviso that at least 60% must be video content. They even have an excellent free course teaching you How to Create a Udemy Course.
Naturally, there a some standards to be met,
but there is so much help and support that I believe anyone who has something to share could teach it on Udemy.
I am practising what I preach and have just started my first course. Will update you as I go along……
.
Posted in

How to.., Info & Learning, News
|
Tagged

......, ........, Break, Cake Decorating, company, content, course, course content, courses, different languages, excellent free course, expert, expert instructor, free, goals, good company, great fan, help, how to, huge opportunity, industry, money, new courses, new industry, number, online, online courses, opportunity, people, point, power, power point presentations, teaching, teaching materials, text, Udemy, Udemy Course, video, video content
Published
January 10, 2014
|
By
admin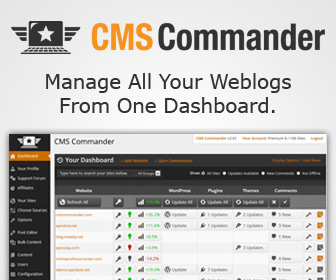 Do you have a lot of WordPress sites, either for your clients or your own? If you do,  you will certainly know how much time that can take on a daily basis to keep everything up to date and to add new content regularly.
..
How would you like to use the time spent on mundane administrative tasks on more important business tasks? CMS Commander is an online service that aims to solve this problem and make managing multiple WordPress weblogs as fast and easy as controlling a single site.
..
By placing all your wordpress  sites into one powerful dashboard, CMS Commander makes it possible to update, backup and manage them all in bulk at the same time.
..
Features of the CMS Commander plugin include:
1-click Updates of plugins, themes and WordPress on all sites
Automatic scheduled WordPress backups
Website cloning and restoring
Uptime monitoring and Analytics integration
Bulk posting and automatic content
While CMS Commander can be used for free a premium account will give you access to several special features and allows you to manage more websites.
Sign up for a free account on cmscommander.com now to start controlling all your weblogs from one dashboard and enjoy the best way to manage multiple WordPress sites!
..
Posted in
Tools
|
Tagged

......, ........, access, best way, business, Click, clients, CMS Commander, CMS Commander plugin, content, date, features, free, important business tasks, multiple WordPress sites, multiple WordPress weblogs, mundane administrative tasks, new content, online, powerful dashboard, service, site, tasks, time, way, website, websites, WordPress backups Website, Wordpress sites
Some of my other websites