We all want to make extra money to supplement our income these days,
but the question is, what is the best way to go? What opportunities are legitimate and realistic for ordinary people without a big budget?
.
To give you an opinion other than mine, I went searching for sites with that seemed to me to provide good advice and found this one that gives a top ten list.
.
Don't expect everything on the list to suit your circumstances, but there are some good suggestions there and maybe the hardest choice will be which one to try first.
Top 10 Ways to Earn Extra Money Online
http://www.australianbusinesstimes.com Sat, 01 Feb 2014 10:38:53 GMT

Everything from self-publishing e-books to entering online tournaments has the potential to bring in an extra wage. The following are ten top ways to earn an income online. One – Self-Publish an eBook: Self-publishing books …
Read more …
Now, some of these ideas would not do for me at all, such as online poker tournaments or forex trading, but the list includes others that do appeal, such as self-publishing or doing this as a service for clients, online freelancing (and another site not mentioned in the article that I use is People per Hour) or setting up a consultant site.
.
Whatever you decide to do, just pick one method and give it a good go. Too many people try one thing for a short time but give up before that idea has a chance to bring in any money
.
Best wishes
Trish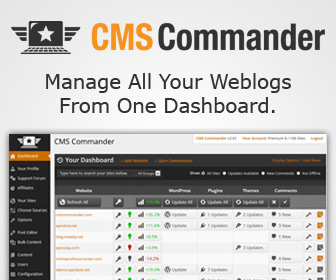 Do you have a lot of WordPress sites, either for your clients or your own? If you do,  you will certainly know how much time that can take on a daily basis to keep everything up to date and to add new content regularly.
..
How would you like to use the time spent on mundane administrative tasks on more important business tasks? CMS Commander is an online service that aims to solve this problem and make managing multiple WordPress weblogs as fast and easy as controlling a single site.
..
By placing all your wordpress  sites into one powerful dashboard, CMS Commander makes it possible to update, backup and manage them all in bulk at the same time.
..
Features of the CMS Commander plugin include:
1-click Updates of plugins, themes and WordPress on all sites
Automatic scheduled WordPress backups
Website cloning and restoring
Uptime monitoring and Analytics integration
Bulk posting and automatic content
While CMS Commander can be used for free a premium account will give you access to several special features and allows you to manage more websites.
Sign up for a free account on cmscommander.com now to start controlling all your weblogs from one dashboard and enjoy the best way to manage multiple WordPress sites!
..