Whether you are a full-time marketer trying to sell products or services online or someone wanting extra income, to help support your family or as extra retirement income, you will need to generate traffic to showcase your offer to potential customers.
However, the sad fact is that many training packages that tell you how to build a website for your business, where to get good graphics, good copywriting etc, very often having the last thing they tell you is…. and then drive traffic to your new site!!
That's it, just drive traffic. But how? There are hundreds and thousands of websites out there that just sit on some web server somewhere and never get any visitors! That's right, not a single person has ever found these sites so lovingly and painstakingly built (I know 'cos I had a few of them!)
Presenting the answer to that problem, the missing link:
Simple Traffic Solutions is a traffic generation product from John Thornhill.
What makes this product stand out from the thousands of traffic generation products out is that none of his methods involve Google.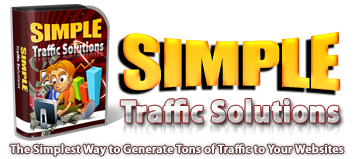 This is because a few years ago John logged into his Google AdWords account to find out he had been banned from running ads. This is a common issue with anyone in the IM niche and devastating to any marketer that it happens too. Businesses have had their sole source of income dry up in a matter of days!
It's OK for Google because they can afford to be selective with their ad program as they have huge corporations pumping billions of dollars into their bank accounts. So, no more relying on Google for John Thornhill or his students.
Another popular traffic teaching tactic is SEO. This involves trying to learn complex methods such as title tags, meta tags, heading tags, alt attributes, sitemaps, link building, algorithms, keyword research, page optimization and content creation. You could spend months getting your site to to top of Google's search results only to see them change their algorithm and your site disappears overnight. The recent Panda and Penguin updates that literally destroyed  businesses overnight are one example.
This is why John said "screw you Google" and decided to come up with traffic methods that didn't involve them at all. He studied other traditional traffic generation techniques and improved them, tweaked them and perfected them. The result is that in the last year his websites have received over 2 billion hits from 20 different traffic generation methods. Yes, you read that correctly, OVER 2 BILLION HITS, and it didn't cost him one cent.
And the good news is John shares how he generated every single click in his latest product, Simple Traffic Solutions. A step by step traffic generation program that can help you get all the traffic you need to your websites.
Well, where do I start, John has covered all he knows about traffic generation in over 50 modules. Each traffic module consists of theory training, practical training and has a checklist so you can work your way through each method step by step He has also created each module in multiple formats so you can watch the videos on your iPad, iPhone or other digital device, as well as watch online.
John gives each traffic method a rating of one to five stars,  showing you what methods work best for him and what methods don't work so well. This is something not seen often.
While some of the traffic methods appear a little basic they are covered in great detail and John's enthusiasm convinces you that traffic generation needn't be a complex matter. In fact he openly shows you how he uses each traffic generation method, shows you how his methods work, and he really has you thinking 'why bother with Google'.
There is also a ton of PDF material including a very well written eBook, a traffic generation mindmap and a collection of checklists that compliment the modules perfectly, this is worth the cost of the product alone.
All in all, and for the price, this is one of the most comprehensive traffic guides I have ever seen, and the fact John shows you how he implements each method shows you he is genuine. He has put a lot of work into this and it shows.
In fact the only downside I can think of is the price is so low you think what's the catch? Well John does hit you with an offer of coaching but this is not required to make his traffic methods work.
So for only $4.95 you can get one of the most comprehensive traffic guides I have ever seen and I can highly recommend it, no matter what level of experience you have you will learn from this product.
To top it off he also gives you a 60 day money back guarantee, so this really is one of the best deals I have seen and I encourage you to check it out here.
P.S. – did you get the free traffic package from John to get a taste of this great traffic system, if not click here now!
Nowadays, the concepts of time and money are being redefined and"Financial Freedom", is one such term that has gained much importance in the changing financial scenario.
A popular definition of "Financial Freedom" is that an individual has the freedom from continuous financial responsibilities through a planned management and allocation of assets. In other words, a person is free from back-breaking work by giving him or herself a steady source of income for life.
To really understand the concept of "financial freedom" you need to look outside the traditional ideas of income and expenses.
We've been taught that time spent on hard work generates money. "Financial freedom" opposes this concept of time-for-money swap and lets the money work for the individual instead. However, in spite of this advantage many professionals find it difficult to work without a fixed routine.
Thus, to achieve financial freedom we need to change our old mindsets and develop a new attitude towards earning money. We must realize that money is simply the means to achieve ends.
We must also remember that a person cannot be judged by the money he or she possesses. Unless these misconceptions are cleared the entire purpose of financial freedom is defeated since satisfaction is the keyword to financial freedom.
Financial Freedom is Time Freedom – get your copy of "How to Achieve Your Own Financial Freedom" FREE from this link.
I've been a Gold member of Jeremy Gislason's SureFire Wealth membership site since 2009 and I consider it to have been one of the best investments I've made to access resell rights products.
Initially I was a free member then received a free silver membership from someone I'd purchased from as a thank-you gift. When the opportunity came to buy a Gold membership at a firesale price, I grabbed it and have never regretted that decision. It was a one-off purchase (no monthly or annual payments that are so common for membership sites) so you know where you are with your cashflow.
New products are added regularly, at least every month and if you receive an email
letting you know the details of what has been added and to which level of membership. Jeremy always seems to have the latest resell right products as soon as they come out, sometimes even before they come out, so it's a good idea to check in there before you go and buy anything.
Most of the products have resell rights, i.e you can resell or give away, though there are some for your personal use only. The following is a quick summary of the different kind of rights you get:
Resale Rights (or normal resell rights) mean that after you buy the item you will be allowed to sell it to your customers. There may be limitations, such as that you can only sell the product for a specific price. When a product comes with resell rights it means that you can sell the product to just about anyone and keep 100% of the profit. The product you sell though should only include the PUO (Personal Use Only) right, in other words, you can NOT give the resell rights when you sell this type of product
Master Resale Rights – When you acquire master resell rights, you sell the product/service to your customers, and you may also grant your customers the right to sell it. You can also pass master resell rights  to your customers, if you are in possession of transferable master resell rights. This allows your customers to also sell the product with master resell rights.
Private label Rights (PLR) – perhaps the most valuable as you can change anything you like from text to graphics and then sell as your own (note that although you can claim authorship, you do not receive copyright). There may also be some restrictions on what you can do with these works, e.g., not sell on auctions sites, not add to free membership sites, not giveaway for free. All these restrictions do not apply in all cases (there is always a copy of exactly what the rights are with your purchase) but when they do apply they are to protect the value of people's purchase.
Most of the products available in Surefire Wealth include reseller kits with reseller website that you can use to market the products and this can save you a lot of time. For PLR products, you can change the graphics to get a whole new look when you market these under your own name.
Click here to check out SureFireWealth.com and the free membership now.
FREE Monthly Websites
Hi everyone
Here's how you can get the most out of a program called FREE monthly website:
Free Monthly Websites, in my opinion is one of those programs you either know what to do with or you don't. I will now show you how you can get the most of it and why Free Monthly Websites is such great tool which can earn you an extra income stream to your business for a long time to come.

The Three main categories we need to concentrate on here are:
1, Selling eBooks
2, Writing articles
3, Affiliate promotions
When you first login and download your website follow the tutorials which is very easy to do and eventually get your website onto your webspace. You are presented with a very nice well designed Adsense website.
What can you do with this free website? Well to be honest the free website has duplicate content so you can rule out getting to the top of the search engine rankings, the premier websites are a different kettle of fish all together but I will get to those in a moment.

Take option 1 above 'Selling eBooks' if you sell eBooks especially PLR (private Label Content) conversions, you will find Free Monthly Websites have a rather large variety of websites that correspond with a lot of the PLR out there (if you are a premier member you get a bonus PLR eBook). All you need to do is upload your eBook to a convenient location on your webspace and place a few corresponding links inside your PLR eBook for example:
I have a weight loss eBook and a small paragraph saying "there are 100's ways to lose weight which can be found in various forms from Books to television to fitness programs bla bla bla" you could not take this small paragraph and insert your Free Monthly Websites website link in a prime location for instance "there are 100's ways to lose weight which can be found in various forms from Books to television to fitness programs the best resource I found is at www.yourfreemonthlywebsites.com/fitness_website"
Now imagine you done this to all your eBooks! Simply take a little time upload your Free Monthly Websites website to your webspace then reopen your PLR eBooks and insert the relevant hyperlink which corresponds to your website and there you have it. For about 2 hours work you have created an income stream for life. Now imagine you have 50 PLR eBooks doing the rounds on eBay or your blog. Your AdSense revenue is going to creep up and up until you are earning a very respectable income. It's a simple case of wash rinse repeat.

Option number 2 is even easier. I know most of you will at some point, or already do write articles and submit them to relevant article directories. Well why not try writing an article about one of the subjects related to Free Monthly Websites? Upload your website to a location on your webspace, place the link in your article and there you have it, submit to article directories like:
http://www.articledashboard.com/
http://www.articlebasement.com/
http://ezinearticles.com/
http://www.goarticles.com/
And another income stream will start.
The third option is a little different. Using your Free Monthly Websites affiliate link to promote the website and earn a potential $98.50 per referral. You can place your link in the websites provided for you and in the eBooks you sell and articles you write this can generate a missive earnings income of $98.50.
So with your website up on your webspace and your eBook on eBay and your articles in the article directories, you will be well on your way to earning a nice income from a free resource.
I mentioned earlier your Premier Members website.
These are a fantastic resource and are worth every penny for the simple fact you receive a private label eBook and 20 articles with every Premier Membership website every month. Not only can you use the eBooks and articles in the ways I have explained, you can key word optimize your website for the search engines, change the content and make your sites as original as you like. In other words you have full edit rights. So if you imagine directing a visitor to your Premier Website via an eBook or article, they will find a fully edited site with offers and affiliate links promotions, and even an Aweber signup box (which you can integrate with a little HTML knowledge) which in turn will create more revenue and more subscribers for you.
My recommendations are if you have a few hours to spare get started with this and you will soon see a Google AdSense income. If you use the Premier Websites, you can place affiliate banners, Clickbank affiliate links and Aweber signup box on your site as well as edit all your own content via an easy edit control panel..
If you are going to move into this business, I recommend you take the Full Premier Websites Access!
Here's the link again where you can learn more and get your own FREE monthly website:
Thank you for reading this review.
Best wishes
Trish