We all want to make extra money to supplement our income these days,
but the question is, what is the best way to go? What opportunities are legitimate and realistic for ordinary people without a big budget?
.
To give you an opinion other than mine, I went searching for sites with that seemed to me to provide good advice and found this one that gives a top ten list.
.
Don't expect everything on the list to suit your circumstances, but there are some good suggestions there and maybe the hardest choice will be which one to try first.
Top 10 Ways to Earn Extra Money Online
http://www.australianbusinesstimes.com Sat, 01 Feb 2014 10:38:53 GMT

Everything from self-publishing e-books to entering online tournaments has the potential to bring in an extra wage. The following are ten top ways to earn an income online. One – Self-Publish an eBook: Self-publishing books …
Read more …
Now, some of these ideas would not do for me at all, such as online poker tournaments or forex trading, but the list includes others that do appeal, such as self-publishing or doing this as a service for clients, online freelancing (and another site not mentioned in the article that I use is People per Hour) or setting up a consultant site.
.
Whatever you decide to do, just pick one method and give it a good go. Too many people try one thing for a short time but give up before that idea has a chance to bring in any money
.
Best wishes
Trish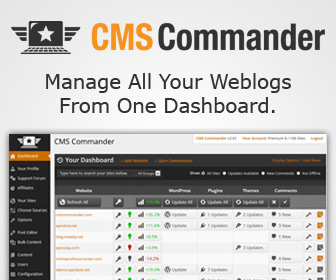 Do you have a lot of WordPress sites, either for your clients or your own? If you do,  you will certainly know how much time that can take on a daily basis to keep everything up to date and to add new content regularly.
..
How would you like to use the time spent on mundane administrative tasks on more important business tasks? CMS Commander is an online service that aims to solve this problem and make managing multiple WordPress weblogs as fast and easy as controlling a single site.
..
By placing all your wordpress  sites into one powerful dashboard, CMS Commander makes it possible to update, backup and manage them all in bulk at the same time.
..
Features of the CMS Commander plugin include:
1-click Updates of plugins, themes and WordPress on all sites
Automatic scheduled WordPress backups
Website cloning and restoring
Uptime monitoring and Analytics integration
Bulk posting and automatic content
While CMS Commander can be used for free a premium account will give you access to several special features and allows you to manage more websites.
Sign up for a free account on cmscommander.com now to start controlling all your weblogs from one dashboard and enjoy the best way to manage multiple WordPress sites!
..
Affiliate Marketing – what exactly is it?
Put simply, it is process where you as the affiliate sell or promote someone else's product or service and you receive a commission for your efforts. Affiliate Marketing is usually considered to be the lowest cost business model when starting an Online Business, and as such is the most popular method with many newcomers to Internet Marketing. The owners or licence holders of the product you promote can be called authors, publishers, merchants or other different terms, depending on whether it is a physical or an information product that you are promoting and how the commission payments are organised.
This business model can take many different forms but are commonly called Affiliate Programs. You join the affiliate program a merchant is using to sell a particular product you are interested in promoting. The most common types of programs are as follows:
Pay per click – each visitor you send to the merchant's site will earn you a commission.
Pay per lead – each lead you send to the merchant's site will earn you a commission.
Pay per sale – commission will be paid by publishers for each sale made at his website or on sites such as clickbank or paydotcom.
Each one of the above methods returns a certain payment for delivering the click, lead, or sale. By far the largest number of businesses utilizing this model work on a Pay per Sale system. There are hundreds of affiliate networks that you can join where the owners of the site have numerous publishers registered so you can choose products & promote them without have to join up to all the separate affiliate programs. Examples of such sites are Commission Junction, Clix Galore, Clickbank, PayDotCom and Click2sell.
Many Internet Marketers will guide the beginner into Affiliate Marketing because it is considered to be the cheapest and simplest business model to get started and develop, especially when all the marketing tools such as a web sales page, promotional emails, articles, press releases etc are provided by the publisher.
Your main costs will be in the promotion of the product or service. All costs associated with the product, sales page, delivery, after sales services, as well as merchant services set up and costs, will be paid by the merchant providing the product.
When starting your Internet Business through affiliate marketing there are five steps to follow:
Find your niche market which shows enough demand as well as a reasonable supply, as well as one that would support future business growth.
Find out what the market is searching for in terms of solutions to problems, or a product/service for which there is a shortage of supply or even a deficiency.
Research the available affiliate products and services for something that will fill the deficiency or fix the problem.
Promote the product by every means available to you.
Although this is not necessarily essential, owning your own website can increase your methods of promotion, but more importantly it allows you to pre-sell the product before redirecting them to the merchant's sales page.
The final item regarding your own website needs serious consideration as it will be the best way towards developing and growing your business and to start creating an opt-in list of targeted potential customers.
Creating a trust between yourself and your customers, as well as your partners, is of prime importance to your business. This trust will serve you well as your customers will gradually consider you to be their expert in this niche and they will take your recommendations and buy.
To help build this relationship of trust, give value to potential customers by offering something useful to them for free. The more value you give them, the more they will be inclined to make purchases from you at a later date. Do not think for one minute that without it you will be able to succeed in affiliate marketing or any other type of business if you do not build a relationship of trust with a list of potential customers.
If you send or receive e-cards (electronic greeting cards), you may not think too much about whether they are safe for your computer or not. They are free and fast, making them a popular and convenient alternative to traditional greeting cards.
To send an e-card, you simply go to an e-card site, choose a card from a number of different categories, and then send it off to your recipient with a personalized greeting. Some of the more well-known companies are Hallmark, 123Greetings, American Greetings or Blue Mountain, but it's worth doing a search as you'll find many great e-card sites specialising in topics such as sports and nature & also charity e-cards.
Receiving an e-card is fun too. Often, these cards come equipped with short video or music clips. Millions of people receive e-cards for special days like Christmas, Easter and personal birthdays every year.
E-cards are created the same way Web sites are; they're built on the Internet just like this page. So when you send someone an e-card, you're actually giving them a link to click, which takes them to the online greeting card you created for them.
Not all e-cards are harmless cards, though; some may contain viruses, spyware, adware, phishing attacks or spam. At best, this is annoying and can involve pop-ups, lots of unwanted junk mail, or other minor disturbances. At worst, these viruses can crash your system or hack into your email contacts.
There are a number of ways you can protect your computer from unwanted surprises that come in the form of e-cards. The following are some tips for online safety for e-cards.
Know what to look for:
The best way to be safe from online viruses is to keep your eyes out for anything suspicious. A good indication an e-card is not legitimate includes:
There are misspelled words or names. The inclusion of non-letter characters such as * @ # $ % , if your name is misspelled, words are spelled with letters in the wrong order such as "Best Wsihes" or are misspelled in other ways, there is a possibility that it is spam or a virus.
Make sure you recognize the sender's name before clicking on any links. The sender should always be recognizable, either in the subject line or the e-mail itself. People don't normally send e-cards to strangers, so you should probably avoid opening e-cards from anyone you don't know.
The e-card has an attachment. Most e-card companies that are legitimate don't put their e-cards as attachments. Rather, they have a link you follow to the company's website that takes you directly to the card. By downloading attachments, you can unknowingly be downloading a virus or other type of unwanted intrusion onto your computer.
Be cautious. If you have any suspicion that the e-Card you have received is fraudulent do not open, and do not click on any links within the e-mail if you do. Legitimate e-mails will always give you the option to pick up the e-Card by typing in the address of the Web site, rather than clicking on the link.
Preview a link's Web address before you click it. If the link doesn't show an address, move your mouse pointer over a link without clicking it to see where the link goes. (The address should appear on the bottom bar of your Web browser.)
Keep your anti-virus & firewall etc software up to date.
You should also have anti virus software, a firewall, anti-spyware and anti-adware installed on your computer to help to detect threats and protect your. In most cases you can get all these programs free, but they do need to be updated and run regularly to give you the best protection. Spyware and adware not only compromise your computer's security, they will often slow your system down.
Read fine print and terms of service.
If you receive an e-card that has a check box saying you agree to their terms of service, be sure to read the fine print. If you are like most people, you simply check the I Agree box without even looking at the print. This can be a big mistake, because with spam e-cards, you might be agreeing to have them download spyware or adware or even to have access to your computer's address books.
When in doubt, delete.
If something doesn't look right, such as the name of the sender or vague subject lines, just delete the card. It's better to safe than sorry.
E-cards are fun to receive and send, as long as you're careful when doing so. The above tips will help you be safe online with e-cards.