Kiva is an international nonprofit, founded in 2005 and based in San Francisco, with a mission to connect people through lending to alleviate poverty. They celebrate and support people looking to create a better future for themselves, their families and their communities.

It's a loan, not a donation!
We believe lending alongside thousands of others is one of the most powerful and sustainable ways to create economic and social good. Lending on Kiva creates a partnership of mutual dignity and makes it easy to touch more lives with the same dollar. Fund a loan, get repaid, fund another.
By lending as little as $25 on Kiva, anyone can help a borrower start or grow a business, go to school, access clean energy or realize their potential. For some, it's a matter of survival, for others it's the fuel for a life-long ambition.
100% of every dollar you lend on Kiva goes to funding loans. Kiva covers costs primarily through optional donations, as well as through support from grants and sponsors.
When a Kiva loan enables someone to grow a business and create opportunity for themselves, it creates opportunities for others as well. That ripple effect can shape the future for a family or an entire community.
Here is one of Kiva's oustanding stories:
Vava Coffee, is taking the coffee industry by storm. Upon learning that coffee farmers in Kenya earn less than 35% of the international market value on their high-quality coffee because of their lack of access to better markets and limited knowledge of the quality of their product, Vava set out to shake things up. Get the full 'scoop' on how her Kiva loan has allowed her to grow her business and improve the lives of 30,000 farmers in innovative ways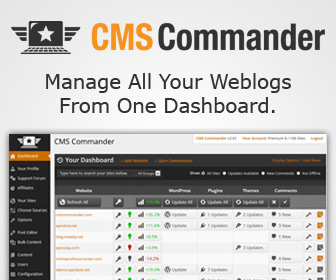 Do you have a lot of WordPress sites, either for your clients or your own? If you do,  you will certainly know how much time that can take on a daily basis to keep everything up to date and to add new content regularly.
..
How would you like to use the time spent on mundane administrative tasks on more important business tasks? CMS Commander is an online service that aims to solve this problem and make managing multiple WordPress weblogs as fast and easy as controlling a single site.
..
By placing all your wordpress  sites into one powerful dashboard, CMS Commander makes it possible to update, backup and manage them all in bulk at the same time.
..
Features of the CMS Commander plugin include:
1-click Updates of plugins, themes and WordPress on all sites
Automatic scheduled WordPress backups
Website cloning and restoring
Uptime monitoring and Analytics integration
Bulk posting and automatic content
While CMS Commander can be used for free a premium account will give you access to several special features and allows you to manage more websites.
Sign up for a free account on cmscommander.com now to start controlling all your weblogs from one dashboard and enjoy the best way to manage multiple WordPress sites!
..
It's not just syncing your files and folders anymore. It's trying to sync literally everything on your phone, tablet, and computer. Game saves, settings, contacts, notes—all of it, and on any phone or tablet you have.
Kyle goes on to say that Dropbox is moving forward with what is calls Datastores. a new API that will power third party apps, enabling all developers to sync their apps over the cloud.
At the moment, we have apps that are only relevant for certain systems e.g. separate apps are needed for iphone/ipad and android with no way to interact; is that about to change?   Click to see the full article.
Until this happens, what cloud storage / backup services can we use for free. How do Dropbox,  iCloud, SkyDrive, Google Drive compare at the moment?
From dropbox.com, this has been a popular choice for quite some time (dropbox is often the first thing that comes to mind for those who have used cloud storage for some time).
SkyDrive
From Microsoft, Skydrive has also been around for some time too and although it comes with more free storage than Dropbox, it initially lacked some of the features (and the 25GB of free storage initially offered has been reduced to 7GB, still a generous amount for free!).
iCloud
More geared to apple users, iCloud is an almost automatic choice as it allows users to seamlessly backup all their iOS devices to the cloud and sync photos & documents between all their apple devices. 4GB free but only for photos, you need is a paid version for documents.
Google Drive
From Google (of course) and for everybody (you do need a google account); also very easy to use, letting you store and access your files anywhere, on the web, your HDD or on the go and each is updated when online.
Below is a summary of features for the Big Four
[table id=1 /]
I use Dropbox and GoogleDrive mostly as I've had accounts for years, but  there are many other choices as well as the offerings from the biggest companies. I recently tried & reviewed Copy.com (see here trishfindlay.com/free-data-storage-copy/) and so far have found it to be very easy to use and reliable.
Here are a few of these others – a browser search will give you more information.
Justcloud
Zipcloud
myPCBackup
Sugarsync
Copy
Backup Genie
SOS Online Backup
IBackup
Carbonite
Mozy
LiveDrive