For anyone wanting to get a personal or small website going for very low cost, GoDaddy have a great offer going between 5th March to 5th April 2014 – for $1 per month you can get a website with unlimited pages, 1GB of disk space and 150GB bandwidth and this is plenty for a small site.
.
In addition, if you select a 12, 24 or 36 months web plan, you can get a free domain for the same period (after that the domain will renew at the then-current price). This means that for $36 you could pay upfront for 3 years and get your domain name and website online for 3 years with nothing more to pay until after that.  What a great deal!  Check it out here.
.
To help with building your site, there are 50 personal themes to choose from in the website builder.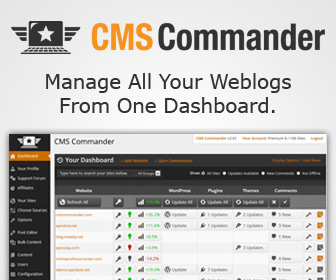 Do you have a lot of WordPress sites, either for your clients or your own? If you do,  you will certainly know how much time that can take on a daily basis to keep everything up to date and to add new content regularly.
..
How would you like to use the time spent on mundane administrative tasks on more important business tasks? CMS Commander is an online service that aims to solve this problem and make managing multiple WordPress weblogs as fast and easy as controlling a single site.
..
By placing all your wordpress  sites into one powerful dashboard, CMS Commander makes it possible to update, backup and manage them all in bulk at the same time.
..
Features of the CMS Commander plugin include:
1-click Updates of plugins, themes and WordPress on all sites
Automatic scheduled WordPress backups
Website cloning and restoring
Uptime monitoring and Analytics integration
Bulk posting and automatic content
While CMS Commander can be used for free a premium account will give you access to several special features and allows you to manage more websites.
Sign up for a free account on cmscommander.com now to start controlling all your weblogs from one dashboard and enjoy the best way to manage multiple WordPress sites!
..
Copy.com Announces Fair Storage and 15GB for all!
 This is what they promise to you: Check it out now.
Better Sharing
Sharing large photo albums is as easy as sending a text file. And you control if people can sync your content to their computer or just view it online.
More Secure
You can share members-only links to your content so prying eyes can't cheat their way into your stuff. And we validate every attempt to access it.
Company Friendly
Copy helps you retain control of your proprietary content and manage the employee accounts who can access it. And we won't nail you with per-user fees.
 CLICK HERE to check it out now – who wouldn't want to have extra online and shared storage for FREE?
I've been a Gold member of Jeremy Gislason's SureFire Wealth membership site since 2009 and I consider it to have been one of the best investments I've made to access resell rights products.
Initially I was a free member then received a free silver membership from someone I'd purchased from as a thank-you gift. When the opportunity came to buy a Gold membership at a firesale price, I grabbed it and have never regretted that decision. It was a one-off purchase (no monthly or annual payments that are so common for membership sites) so you know where you are with your cashflow.
New products are added regularly, at least every month and if you receive an email
letting you know the details of what has been added and to which level of membership. Jeremy always seems to have the latest resell right products as soon as they come out, sometimes even before they come out, so it's a good idea to check in there before you go and buy anything.
Most of the products have resell rights, i.e you can resell or give away, though there are some for your personal use only. The following is a quick summary of the different kind of rights you get:
Resale Rights (or normal resell rights) mean that after you buy the item you will be allowed to sell it to your customers. There may be limitations, such as that you can only sell the product for a specific price. When a product comes with resell rights it means that you can sell the product to just about anyone and keep 100% of the profit. The product you sell though should only include the PUO (Personal Use Only) right, in other words, you can NOT give the resell rights when you sell this type of product
Master Resale Rights – When you acquire master resell rights, you sell the product/service to your customers, and you may also grant your customers the right to sell it. You can also pass master resell rights  to your customers, if you are in possession of transferable master resell rights. This allows your customers to also sell the product with master resell rights.
Private label Rights (PLR) – perhaps the most valuable as you can change anything you like from text to graphics and then sell as your own (note that although you can claim authorship, you do not receive copyright). There may also be some restrictions on what you can do with these works, e.g., not sell on auctions sites, not add to free membership sites, not giveaway for free. All these restrictions do not apply in all cases (there is always a copy of exactly what the rights are with your purchase) but when they do apply they are to protect the value of people's purchase.
Most of the products available in Surefire Wealth include reseller kits with reseller website that you can use to market the products and this can save you a lot of time. For PLR products, you can change the graphics to get a whole new look when you market these under your own name.
Click here to check out SureFireWealth.com and the free membership now.